IPHONE MODEL (XS/XS MAX/XR/11/11 PRO/11 PRO MAX/12MINI/12/12 PRO/12 PRO MAX/13 MINI/13/13 PRO/13 PRO MAX) -->install video
IPHONE MODEL (6S/6S+/7/8/X/SE/SE 2) --->short chip install video
NEW ICCID

:No Woring ICCID Please Use TMSI mode
Make sure to update the ios to latest -  ios 15.4 or Latest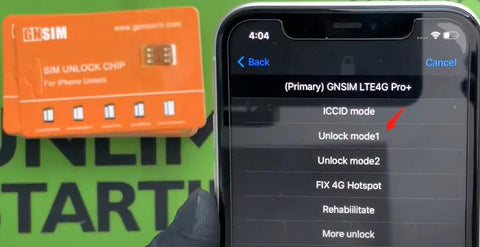 1. Insert your sim card with unlock chip 
  Make sure you have wifi connected and Latest version of the ios installed 
2. Wait  for a popup menu then press/ select Unlock mode1 option from below
VERY IMPORTANT : 
Press 
" unlock mode 1 -Choose Carrier which iphone is locked
3
. Make sure you choose right carrier and keep gn sim chip inside     iphone 
4.
Press

"

Send

"
and then

'
Accept
'
5.  Setting Done. Your Iphone will be returned to 
activation
 screen and just activate with wifi 
6. Unlocked!!!.                                                                                                                                                                                                                                  
​

Wait..!! 

you still can not unlock the iphone,please email us for more solution!!! 

We will reply the email by the following infomation attached
​Please contact us now :

 

geniesimvip@gmail.com

 with below details ,  WE WILL FIX THE ISSUE !!! 

1) Order number (MUST) - Or Copy of Invoice 2) iPhone model (XS MAX, XS , 7,8,X,11,12,13 etc ) 3) Original carrier of the iphone ?4) Carrier of the SIM card are you going to use after unlock?​5) IMEI number of the iphone ?6) IOS version of the iphone ? (Go to settings -> General -> About) 
 
 Make sure you have latest ios 
15
(otherwise it will not work)
7) Do you have another factory unlocked iphone? (YES / NO) - Yes , then there is quick fix possible

NEW METRO PCS Customers: 

 
For 'Metro PCS Sim card' on any iphone getting message "No service", You need to call METRO customer support and give your iphone IMEI number and ask them to activate your phone on your account to get the service (Need to restart your phone after activate your IMEI number) 
Contact us: geniesimvip@gmail.com (We may not respond to any email without the above 7 details) for any issues. 
​
Note: Once your phone is unlocked,you can remove the chip from iphone but please keep it if one day you will use it again . 
Do not Erase the phone or Flash your phone will also remove all saved chip settings.
 you can
 upgrade IOS once iphone get unlocked .